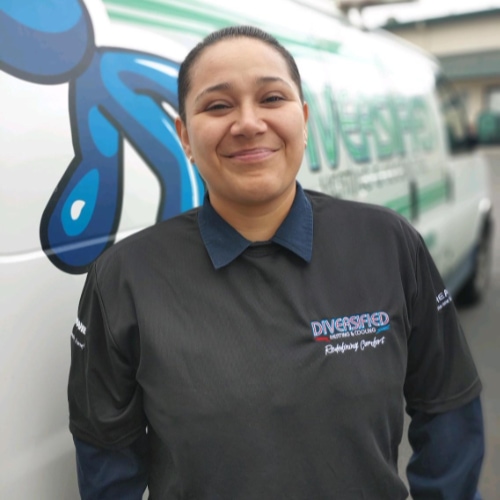 Sunshine L.
HVAC Installer
17 Reviews
Heat Pump Maintenance in Prineville, OR 97754
"Two years ago Jess with Diversified Heating and Cooling came out to give us a bid on a new heating system. She sold us on removing our 28 year old furnace and heat pump, replacing it with a new Bosch system and it has been an amazing improvement to our comfort in both heating in the winter and cooling in the summer. This system is so "smart" and works with our existing Ecobee thermostat, and has been so much more efficient, reducing my electric bill by about $20-25.00 a month in the cold or hot weather. We are so happy we chose Diversified to replace the old system that was working, but on borrowed time!! We opted to do the annual maintenance check up, last year performed by Cierra and and this year by Sunshine. Both of these wonderful gals know their stuff…they thoroughly go thru the whole system, looking for any errors or problems, by the way there were none. This year Sunshine suggested we add a surge protector to the heat pump and we opted to do that smart addition. Overall, I cant say enough great things about this local company and the Bosch system they installed."
- Christine B.
Gas Furnace Maintenance in Prineville, OR 97754
"Right on time! Efficiently performed scheduled maintenance. Cleaned up and locked door when completed."
- Toni J.
Gas Furnace Maintenance in Redmond, OR 97756
"Sunshine called prior to coming to my home, as requested. She was very informative about the work she was doing and was very pleasant.
Great Service!"
- Daphne B.
Heat Pump Maintenance in Prineville, OR 97754
- Wes J.
Ductless Mini-Split Maintenance in Redmond, OR 97756
"Just wanted you to know that Sunshine did a fantastic job servicing my ductless system today. She was on time, thorough and very professional. Also very nice and friendly. I hope she is assigned to do my maintenance in the future.
I like Diversified very much and have passed your company name onto homeowner friends. Thanks!
Sue W"
- Sue W.
Gas Furnace Maintenance in Redmond, OR 97756
"Sunshine was great! Called when she was 25 minutes out, then texted upon arrival so I could open my garage. Explained everything. Thank you Sunshine, while I miss Cierra, you were a great addition to the team."
- Lisa J.
Ductless Mini-Split Maintenance in Bend, OR 97701
"My husband and I can't say enough good things about Sunshine. She is the most professional, efficient, and knowledgeable service tech we've ever dealt with. Always on time, calling ahead to tell us that she's 10-20 mins out, extremely detail oriented during our annual maintenance calls, and she just left our home after recommending and installing a surge protector for our ductless unit. We would've never even thought of adding that additional layer of protection and appreciate her calling that to our attention! She also took it upon herself to replace some insulation on some of the outdoor unit wiring that had worn off. Note: You might start rolling the surge protection option into your new install bids, especially those of us outside of town and prone to power outages. Thank you again Sunshine!"
- Terri E.
Gas Fireplace Maintenance in Bend, OR 97703
"Sunshine did a great job. She's professional and takes a lot of pride in her work. Our FP hasn't been cleaned since 2004 and it looks new👍"
- Jackie W.
Furnace and air cooler Maintenance in Bend, OR 97702
"Diversified is an awesome company. Everyone we have worked with have demonstrated their values of trust, respect, expertise and integrity. We have had a variety of services done over the years, we so appreciate all they do.
Sunshine took care of us today. Her smile and respectful care was awesome! She was sweet with our dog too! Thank you sooo much for taking such good care of us!"
- Rose S.
Other Maintenance in Redmond, OR 97756-8658
"Just a shout out to Sunshine! Very friendly and courteous. Answered all my questions. Fully explained what she did. Just an overall great person.
Please acknowledge her and give her a atta girl! I will request her next time. Thanks again Sunshine! You're the best!"
- Budget Storage R.