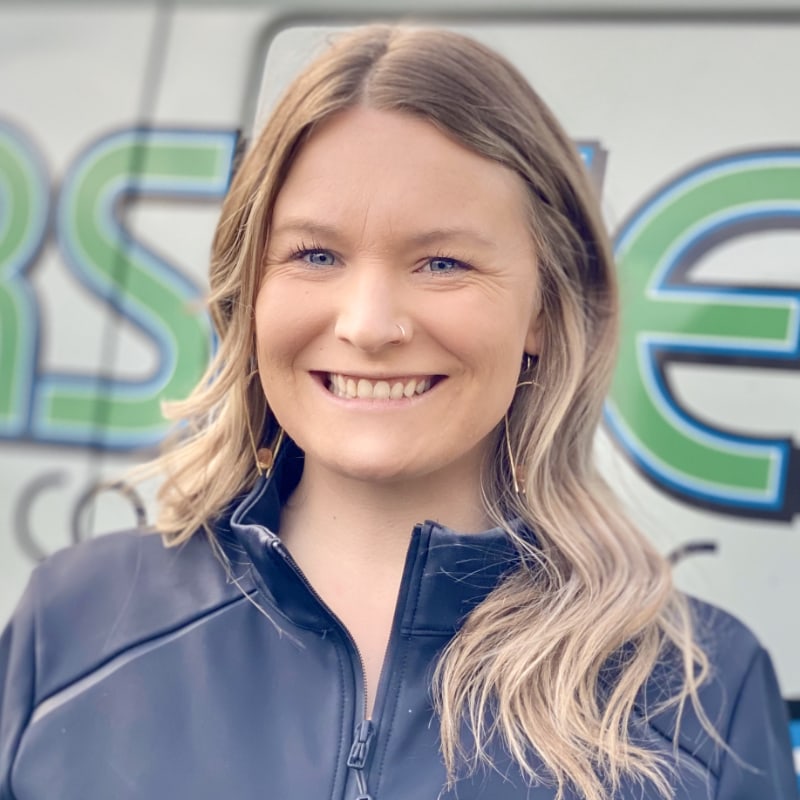 Jessica
Comfort Adviser
20 Reviews
Heat Pump Maintenance in Prineville, OR 97754
"Two years ago Jess with Diversified Heating and Cooling came out to give us a bid on a new heating system. She sold us on removing our 28 year old furnace and heat pump, replacing it with a new Bosch system and it has been an amazing improvement to our comfort in both heating in the winter and cooling in the summer. This system is so "smart" and works with our existing Ecobee thermostat, and has been so much more efficient, reducing my electric bill by about $20-25.00 a month in the cold or hot weather. We are so happy we chose Diversified to replace the old system that was working, but on borrowed time!! We opted to do the annual maintenance check up, last year performed by Cierra and and this year by Sunshine. Both of these wonderful gals know their stuff…they thoroughly go thru the whole system, looking for any errors or problems, by the way there were none. This year Sunshine suggested we add a surge protector to the heat pump and we opted to do that smart addition. Overall, I cant say enough great things about this local company and the Bosch system they installed."
- Christine B.
Ductless Mini-Split Installation in Bend, OR 97701
"From the beginning of getting a quote to the actual installation the Diversified Team was professional and respectful to helping us accomplish our goals.
Jess provided timely options to install mini splits in our bedrooms and was very quick on answering any questions we had. All my interactions with her were friendly while she was really knowledgeable about all the products and potential options.
Travis and Rahul provided excellent installation and were always respectful of our home. They made the installation process seamless and left the house immaculate. You can tell that they take pride in their work!
I would recommend working with this team any day!"
- Rebecca S.
Air Conditioner Installation in Bend, OR 97702
"Installation went smoothly and the techs answered all my questions. Had a great experience with DH."
- Greg M.
Air Conditioner Installation in Sunriver, OR 97707
"I initially was put in contact with Jess and from the start she was very quick in getting me a quote, options, and estimates. When it came the day of install Raul, Sunshine, and one other guys I can't recall his name was on time and got the job done. Very satisfied!"
- John N.
Air Conditioner Replacement in Bend, OR 97702
"Jess was obviously great bc she sold us a new Trane/Bosch system, which is the equivalent of what our 20 yr old system was…adding the best in technological and efficiency advancements made in the last two decades. Finance options were a great attraction also.
Jess was very informative and realistic in her approach.
Sunshine, Raul and Bryce came in and knocked the job out, looks and FEELS gReAT!!
They were thorough, professional and communicative through the installation. It helps they were nice too.
Thanks guys!
Recommendations for Diversified Heating & Cooling to service your needs!!"
- Jared W.
Heat Pump Replacement in Bend, OR 97702
"I had Diversified install a new Heat Pump, Coil, Gas Furnace, Air Cleaner and Humidifier in my 20 year old home. I worked with Jess and she put together an estimate to replace my system with several options to choose from. Keegan, Travis and Raul did a wonderful, professional job, taking away the old and installing the new equipment. Lisa L. handled the billing. The system cost was reasonable and they were able to install it fairly quickly once the equipment arrived here. I would recommend them to anyone looking to have their Heating and Air Conditioning system replaced."
- William K.
Ductless Mini-Split Installation in Bend, OR 97701
"Everyone involved with our Mini-Split setup was phenomenal! Jess was extremely informative and helpful with assisting us in choose the right system.
The installation guys, Raul, Travis and Keegan were outstanding. Very friendly and professional providing a clean and quick installation. Just in time for the summer heat! They were also very courteous and careful with our onsite "supervisor" our 10 month crazy dog.
Extremely happy with the results! Thanks a bunch Diversified!!"
- Danielle B.
Gas Furnace Installation in Bend, OR 97702
"First they also installed a new air conditioner also. I have been construction for over 35 years, I was very impressed by this team that came out for this installation. They were organized, had all the material when they arrived, explained to us what they were going to be doing and how long it would take. Very professional, polite, they knew what they were doing went right to work, kept the job site clean (which was our house). Also I want to thank there sub contractor for the electrical PRO Electric, they did an out standing job. We are very happy we chose Diversified, we would highly recommend them for you Heating and Cooling needs."
- Paul R.
Gas Furnace Installation in Sunriver, OR 97707
"We had two gas appliances installed – a furnace and a tankless hot water heater. We also had our house piped for gas. Everything with Diversified was great! We had three initial quotes for this work since it is a large scope of work. Not only were you competitively priced, but the entire experience was great. Jess was really knowledgeable about her line of work. And she was clearly able to answer any of our questions – which we had many! We were given a quote before she left the house! They provided a two day window to complete the work and gave me those exact dates which were about two months out. They have this down to a science too. They were available on exactly those dates and all work was performed within the window of time they provided at the time of the quote. We couldn't be happier with our decision to go with Diversified and feel comfortable referring them to others based on our experiences."
- Christian L.
Ductless Mini-Split Installation in Bend, OR 97702
"What a great company to work with. Very responsive, very organized and totally customer focused. I would highly recommend contacting Diversified Heating for your HVAC issues. I have experience with their competitors locally in Bend, and there is no comparison. Diversified Heating ROCKS!"
- Gary H.