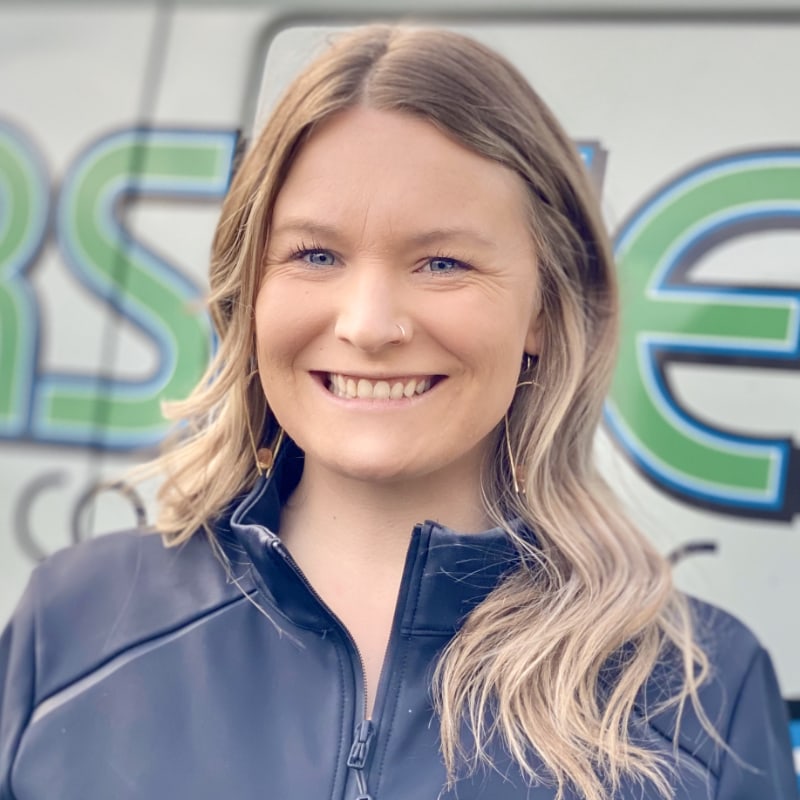 Jessica
Comfort Adviser
24 Reviews
Ductless Mini-Split Installation in Redmond, OR 97756
"I recently had a mini-split ductless system installed by Diversified Heating and Cooling. I am very satisfied with both the product and the service. Company rep Jess quickly addressed my questions and concerns. Installation crew Raul, Travis, and Armando were focused on the job at hand, worked together seamlessly, and were respectful of my home. It's been a pleasure to work with this company: from Jess and the crew to Catie and the office team."
- Cathy L.
Air Conditioner Installation in Bend, OR 97703
"Timely, friendly, courteous, professional, and efficient. Suggest team review optional components, such as AC cover(s) with clients before installation/invoice preparation."
- Enzo B.
Air Conditioner Installation in Bend, OR 97702
"Everyone was friendly, considerate and willing to help us understand the entire process. It was a pleasure to work with them all!"
- Kathy H.
Air Conditioner Installation in Bend, OR 97701
"Loved the flawless and fast service. Communication was great leading up to and during my AC installation. As a first time home owner I found it very comforting to have such a great support team to work with."
- Katie B.
Heat Pump Maintenance in Prineville, OR 97754
"Two years ago Jess with Diversified Heating and Cooling came out to give us a bid on a new heating system. She sold us on removing our 28 year old furnace and heat pump, replacing it with a new Bosch system and it has been an amazing improvement to our comfort in both heating in the winter and cooling in the summer. This system is so "smart" and works with our existing Ecobee thermostat, and has been so much more efficient, reducing my electric bill by about $20-25.00 a month in the cold or hot weather. We are so happy we chose Diversified to replace the old system that was working, but on borrowed time!! We opted to do the annual maintenance check up, last year performed by Cierra and and this year by Sunshine. Both of these wonderful gals know their stuff…they thoroughly go thru the whole system, looking for any errors or problems, by the way there were none. This year Sunshine suggested we add a surge protector to the heat pump and we opted to do that smart addition. Overall, I cant say enough great things about this local company and the Bosch system they installed."
- Christine B.
Ductless Mini-Split Installation in Bend, OR 97701
"From the beginning of getting a quote to the actual installation the Diversified Team was professional and respectful to helping us accomplish our goals.
Jess provided timely options to install mini splits in our bedrooms and was very quick on answering any questions we had. All my interactions with her were friendly while she was really knowledgeable about all the products and potential options.
Travis and Rahul provided excellent installation and were always respectful of our home. They made the installation process seamless and left the house immaculate. You can tell that they take pride in their work!
I would recommend working with this team any day!"
- Rebecca S.
Air Conditioner Installation in Bend, OR 97702
"Installation went smoothly and the techs answered all my questions. Had a great experience with DH."
- Greg M.
Air Conditioner Installation in Sunriver, OR 97707
"I initially was put in contact with Jess and from the start she was very quick in getting me a quote, options, and estimates. When it came the day of install Raul, Sunshine, and one other guys I can't recall his name was on time and got the job done. Very satisfied!"
- John N.
Air Conditioner Replacement in Bend, OR 97702
"Jess was obviously great bc she sold us a new Trane/Bosch system, which is the equivalent of what our 20 yr old system was…adding the best in technological and efficiency advancements made in the last two decades. Finance options were a great attraction also.
Jess was very informative and realistic in her approach.
Sunshine, Raul and Bryce came in and knocked the job out, looks and FEELS gReAT!!
They were thorough, professional and communicative through the installation. It helps they were nice too.
Thanks guys!
Recommendations for Diversified Heating & Cooling to service your needs!!"
- Jared W.
Heat Pump Replacement in Bend, OR 97702
"I had Diversified install a new Heat Pump, Coil, Gas Furnace, Air Cleaner and Humidifier in my 20 year old home. I worked with Jess and she put together an estimate to replace my system with several options to choose from. Keegan, Travis and Raul did a wonderful, professional job, taking away the old and installing the new equipment. Lisa L. handled the billing. The system cost was reasonable and they were able to install it fairly quickly once the equipment arrived here. I would recommend them to anyone looking to have their Heating and Air Conditioning system replaced."
- William K.