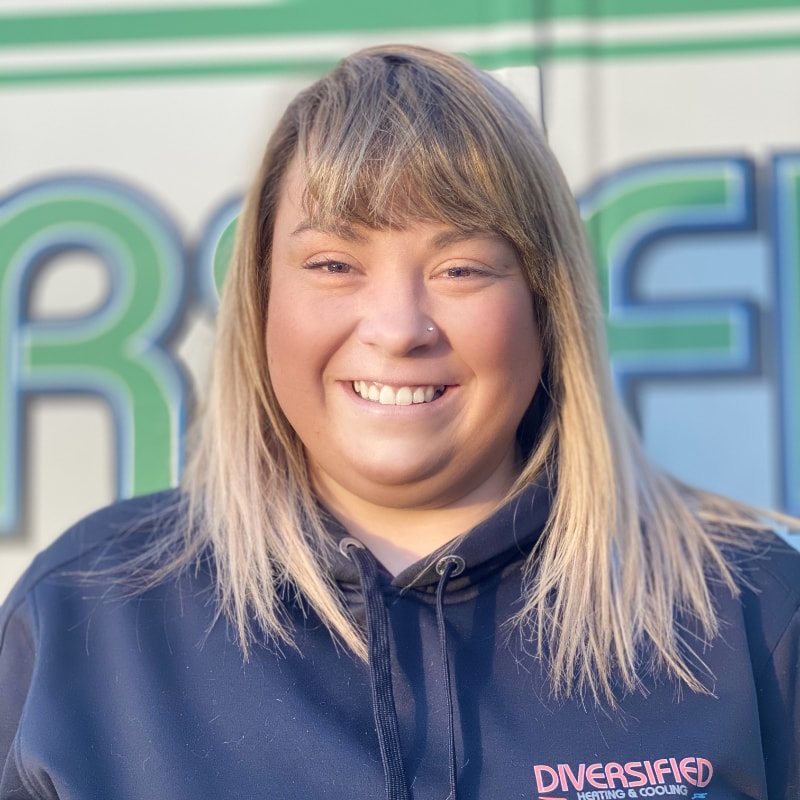 Cierra
Preventative Maintenance Technician
23 Reviews
Heat Pump Maintenance in Prineville, OR 97754
"Two years ago Jess with Diversified Heating and Cooling came out to give us a bid on a new heating system. She sold us on removing our 28 year old furnace and heat pump, replacing it with a new Bosch system and it has been an amazing improvement to our comfort in both heating in the winter and cooling in the summer. This system is so "smart" and works with our existing Ecobee thermostat, and has been so much more efficient, reducing my electric bill by about $20-25.00 a month in the cold or hot weather. We are so happy we chose Diversified to replace the old system that was working, but on borrowed time!! We opted to do the annual maintenance check up, last year performed by Cierra and and this year by Sunshine. Both of these wonderful gals know their stuff…they thoroughly go thru the whole system, looking for any errors or problems, by the way there were none. This year Sunshine suggested we add a surge protector to the heat pump and we opted to do that smart addition. Overall, I cant say enough great things about this local company and the Bosch system they installed."
- Christine B.
Gas Furnace Maintenance in Bend, OR 97701
"We've been using Diversified Heating and Cooling for several years at two different locations and have never been disappointed with either the installation or maintenance services we have received. Whether adding an AC unit, finding and installing a gas fireplace blower kit, or keeping the heat and cool in our house operating year-round, we have never had a problem with Diversified or been unable to get a call back or a resolution to our problems or needs.
Even though all of the installers and technicians that we have encountered from Diversified have been great, I am always most happy to find out that the annual maintenance service is going to be done by Cierra. She is always professional and thorough and goes beyond just performing the basic tasks. She also takes the time, if you are interested and I am, to show you what she did, to explain anything she happened to find out while doing the maintenance, and to give advice on how to make the system perform at its peak levels. During our most recent service, as an example of her proactiveness, she found a problem with the condenser motor on our air conditioning unit and automatically called it in and got a replacement ordered while the unit is still under warranty. And, in addition to her obvious knowledge about heating/cooling systems, she is also always pleasant to talk to and never laughs about my obviously stupid questions. We also appreciate the attention of the office staff who call to remind us when it is time to get regular service and always follow up with information on scheduling changes and the status of parts being ordered and other business items.
So, yes, we are "fans" of Diversified Heating and Cooling and their excellent maintenance tech, Cierra."
- Ken R.
Ductless Mini-Split Maintenance in Bend, OR 97003
"Professional service with a great attitude. We were the last service of her day (and past quitting time), and we saw nothing but efficient thorough work with good humor."
- Tony B.
Gas Furnace Maintenance in Bend, OR 97702
"Cierra is fantastic. Thank you!"
- Rose T.
Heat Pump Maintenance in Prineville, OR 97754
"Cierra performed our first time maintenance check since buying the Bosch furnace and heat pump last April from Diversified. She was extremely thorough and informative as well as educational on a couple of things. We have been extremely satisfied with our new system which replaced an aging 23 year old furnace and heat pump. We were happy to hear that the whole system checked out and is working perfectly, and only needed to change out the filter. We appreciate this maintenance program and everyone who has been involved with our HVAC system. Thank you Diversified!!"
- Mike B.
Gas Fireplace Maintenance in Bend, OR 97702
"Always a good experience with Diversified."
- Ann P.
Gas Furnace Maintenance in Bend, OR 97701
"Cierra provided great professional service with a friendly demeanor."
- Debbie W.
Ductless Mini-Split Maintenance in Sisters, OR 97759
"Cierra has done the yearly maintenance for years. She does a great job and is very professional
I have been very happy with diversified heating"
- Doug R.
Gas Furnace Maintenance in Prineville, OR 97754
"Cierra Is always professional and pleasant. She explains everything. She is absolutely Awesome"
- Mary L.
Heat Pump Maintenance in Sunriver, OR 97707
"Cierra called ahead (giving me time to clear away the junk that gathers around the air handler), arrived on time, and ready to work. She was familiar with the operation and specifications of my Mitsubishi Split-System heat pump (purchased from and installed by Diversified). She completely exposed all control and mechanical equipment, checked all connections, measured load and pressure differential, cleaned everything, then put it all back together without having any parts left over. She reported what she found in a way I could understand. I have met many service techs in my time. She is, by far, the most professional I have had the fortune to meet."
- Mike G.