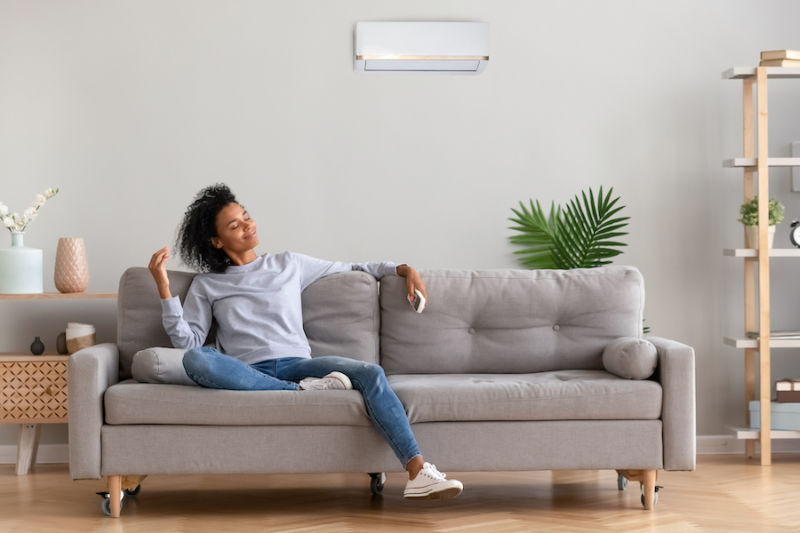 You do the laundry, mop the floors, wash the dishes—you even wax the car on a sunny day.
But have you ever thought about improving the air quality inside your Oregon home or business?
At Diversified Heating & Cooling, we take great pride in offering reliable and safe products to improve your indoor air quality (IAQ). As our country grapples with the COVID-19 pandemic, maintaining a healthy and comfortable indoor environment is more important than ever.
It starts with clean air.
Why Indoor Air Quality Matters
Poor indoor air quality can affect your health, especially if someone in your Bend home suffers from allergies, asthma, or some other type of respiratory condition. Contributing factors toward indoor air pollution include dust, smoke, pet dander, building materials, clogged air filters, uneven humidity levels, household cleaners, and personal care products.
If your heating, ventilation, and air conditioning (HVAC) equipment contain any moisture buildup, the system could become a natural breeding ground for mold, bacteria, fungi, and other contaminants—and your heating and cooling system could be spreading them throughout your home.
Immediate effects from indoor air pollution include irritation of the eyes, nose, and throat, headaches, dizziness, and fatigue. Repeated exposure to indoor pollutants over a long-term period can result in chronic respiratory problems, heart disease—even cancer, according to the US Environmental Protection Agency (EPA).
For all these reasons, our team at Diversified takes a thorough approach toward addressing your indoor air quality.
Humidification
Adding a whole-house steam humidifier offers the ultimate solution to incorporating the correct amount of indoor moisture in all climates. These systems complement your existing HVAC equipment to provide another layer of comfort and health to your Bend home. Some benefits include:
Protects wood floors, moldings, and furnishings from harmful dry conditions that can cause damage
Operates independently of the heating system to provide the desired indoor moisture level at all times
Adds installation flexibility via remote mount capability
Purification
Our selection of air scrubbers continuously protects and purifies the air, and attacks contaminants on all surfaces. These systems can reduce odors and visible smoke in the air. Air scrubbers are effective in both residential and commercial settings. They work in homes, offices, and apartment buildings. Other benefits include:
Calls for low maintenance—no cleaning required
Purifies the air and reduces particles that can irritate allergies and asthma
Protects people from dangerous contaminants and pollutants while protecting heating and cooling systems from dust buildup
At Diversified Heating & Cooling, we work with the top manufacturers in the HVAC industry to ensure you get the best return on your investment. Upgrading your home or business with these products will only add value to your property.
Clean Effects
The Trane CleanEffects™ Air Cleaner utilizes patented, breakthrough air cleaning technology to remove up to an astounding 99.9 percent of airborne allergens from the air that passes through the filter. It catches particles as small as 0.1 microns, making it eight times more effective than even the best high-efficiency particulate air (HEPA) room filters.
This system uses revolutionary technology that supplies your entire Bend home with a cleaner, healthier environment, allowing you to breathe easier. Say goodbye to worrying about breathing in harmful bacteria or allergens. Say hello to comfort.
The Trane CleanEffects Air Cleaner is certified as "Asthma & Allergy Friendly" by the Asthma and Allergy Foundation of America (AAFA). With more than 60 million Americans suffering from asthma and allergies, this certification offers peace of mind that you are purchasing a product scientifically proven to reduce exposure to asthma and allergy triggers.
Call Your Indoor Air Quality Experts!
Take control of the indoor air quality at your Bend, OR, home or business. You can trust our team at Diversified Heating & Cooling to provide you with practical solutions when it comes to your health, safety, and comfort. Call 541-640-5298 or request service online today to learn more about our indoor air quality products and other services.