Indoor Air Quality Products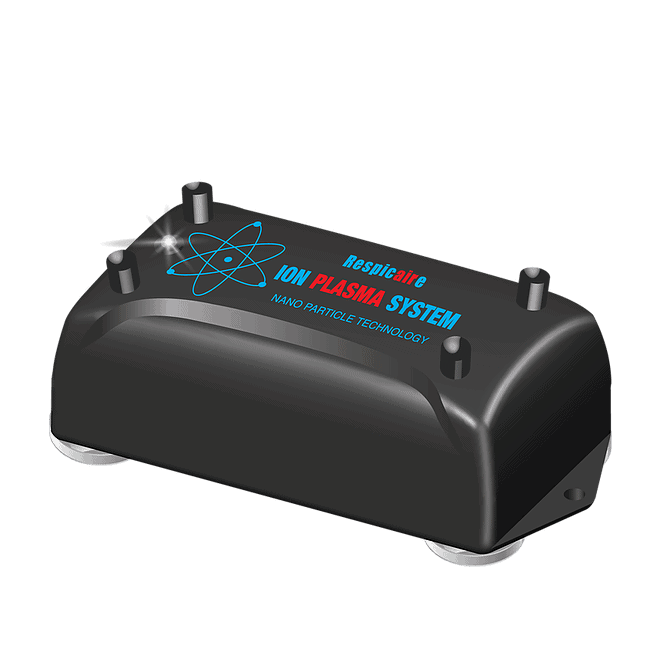 Respicaire NPI Ion Plasma Air Treatment System
The Respicaire NPI Ion Plasma Air Treatment System is an air enhancement device that features active ions to treat your indoor air. The Ion plasma systems are designed to be installed in your central heating & cooling system. The active ions help treat your indoor air around the clock. Moreover, these devices help control and prevent the buildup of contaminants on your evaporative coils.
FEATURES:
Affordable & effective air treatment solution
No replacement parts are required
4 Posts provide high output of negative and positive ions
The Bi-Polar Ionization aids the evaporative coil & helps prevent growth of biofilm
Helps treat some household odors as air recirculates through central HVAC systems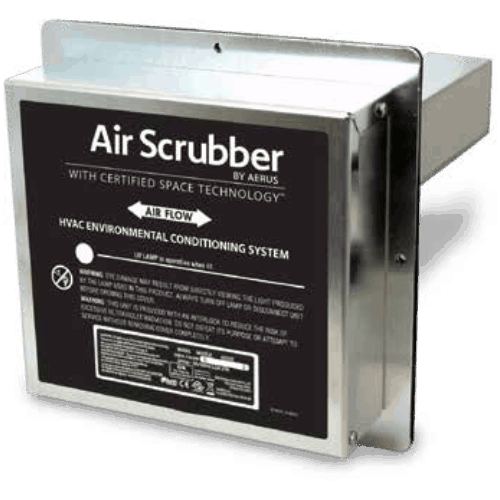 Air Scrubber by Aerus
The Air Scrubber Plus by Aerus substantially reduces odors, visible smoke in the air, and microbial populations on surfaces*, utilizing the patent pending ActivePure® Technology. ActivePure consists of a special UV light and photocatalyst target, creating an Advanced Oxidation Process containing several friendly oxidizers. Certified Space Technology continuously protects and purifies the air, and attacks contaminants on all surfaces.
Description
Duct or plenum installed natural air system
Discreet or concealed installation
100/277 volt option available
UV bulb monitoring indicator included
Low maintenance – no cleaning required
Applications
Purifies the air and reduces particles that can irritate allergies and asthma
Protects people from dangerous contaminants and pollutants and protects heating and cooling systems from dust buildup
HVAC systems with accessible ducts
Residential and commercial use
Apartments
Offices
*Published scientific studies conducted on behalf of activTek by Dr. James Marsden at Kansas State University demonstrated that activTek's ActivePure® Technology substantially reduces microbial populations on surfaces. The study's results are being provided solely for informational purposes. The study's results have not been reviewed by the FDA, EPA or any other governmental agency. Our products are not medical devices and are not intended to diagnose, treat, or cure any disease. We make no claims and no claims should be inferred as to the efficacy of our products to sanitize, disinfect or kill germs or other antimicrobials.
CleanEffects™ Air Cleaner
Setting the standard in air quality, the Trane CleanEffects™ Air Cleaner uses revolutionary technology that supplies your home with a cleaner, healthier environment, allowing you to breathe easier - literally. Remove up to 99.98% of airborne particles with our air cleaner for your home and say goodbye to worrying about breathing in harmful bacteria or allergens.
Asthma & Allergy Friendly™ Certified
Asthma & Allergy Friendly™ Certified by the Asthma and Allergy Foundation of America. With more than 60 million Americans suffering from asthma and allergies, this certification mark guides consumers in identifying products more suitable for people with asthma and allergies. The asthma & allergy friendly® Certification Mark is awarded only to those products that that are scientifically proven to reduce exposure to asthma and allergy triggers.
Highest Efficiency
Standard air cleaners have filters that are very dense, so they stop the dust by trapping it in a slightly porous filter. The fewer the pores, the more dust it can trap. However, this not only stops the dust and dirt, but it also stops the air from moving as well. So, you may not be as comfortable, and less air is cleaned efficiently. This is called pressure drop. The revolutionary Trane CleanEffects™ Air Cleaner has the lowest pressure drop with the highest efficiency possible.
Small Particles, Large Effects
Particles like dust, smoke and bacteria are often .3 microns or less. At that size, allergens can get deep into your lungs because they aren't filtered well by your nose and throat. An effective Trane air cleaner, such as Trane CleanEffects™, can reduce the presence of potential asthma and allergy attack triggers in your home, like dust, pollen, pet hair and dander, dust mites, mildew, lint, fungus, most tobacco smoke, cooking grease, and even bacteria.
Patented Innovation
The Trane CleanEffects™ Air Cleaner utilizes patented, breakthrough air cleaning technology to remove up to an astounding 99.98% of airborne allergens from the air that passes through the filter. It catches particles as small as .1 micron, making it 8 times more effective than even the best HEPA room filters and up to 100 times more effective than a standard 1-inch filter.
Verified by Harvard Experts
Trane CleanEffects™ has been performance-tested by LMS Technologies and Environmental Health & Engineering, Inc. (EH&E), with the results verified by professors from the Harvard School of Public Health, so you know you are getting an air cleaner for your home like no other.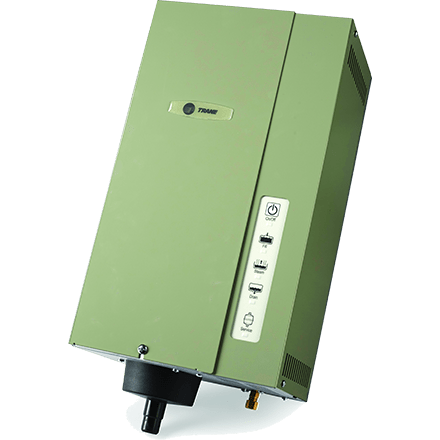 Steam Humidifier
Trane EHUM800 Steam Humidifier is the ultimate solution in providing the correct amount of indoor moisture in all climates with all types of heating systems.
Protects wood floors, moldings, and furnishing from harmful dry conditions that can cause damage
Operates independent of the heating system to provide the desired indoor moisture level at all times
Remote mount capability adds installation flexibility
6 different capacities in one unit meets the needs of all size houses up to 5000 square feet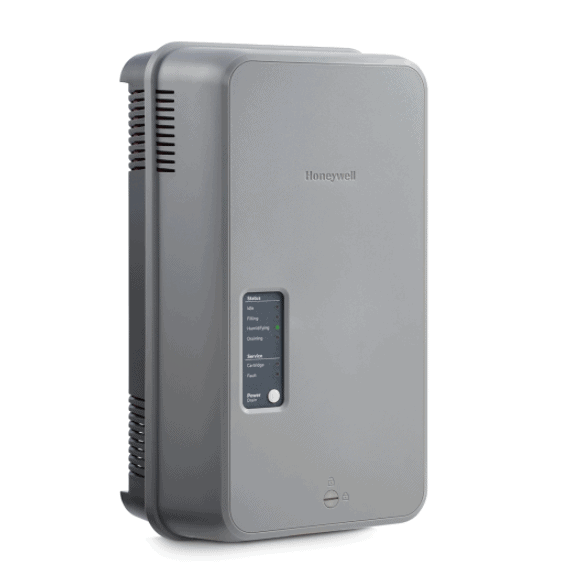 The Honeywell Home Steam Humidifier
The Honeywell Home Steam Humidifier from Resideo takes the efficiency, performance and decreased water consumption of current steam humidifiers and combines it all with the ease of installation, reliability and value of flow-through humidifiers. Unlike other models, the Honeywell Home Steam Humidifier operates independent of HVAC equipment to efficiently maintain the desired humidity level.
RedLINK-enabled
Available in 9- and 12-gallon models
Requires only 1-3/4" cut into ductwork for ease of installation
Application flexibility - can be remotely mounted up to 20 feet from system with remote-mount kit
Every steam humidifier includes HumidiPRO™ digital humidity control and an RO water treatment system
Can communicate with the Wireless Outdoor Sensor to automatically control humidity to proper levels
Add a Wireless Adapter to communicate and control humidity from thermostat without running wires to the living space
5-Year Warranty
iWave-R
With technology installed in over 100,000 applications, iWave-R is the world's first self-cleaning, no maintenance needlepoint bi-polar ionization generator designed specifically for treating air in residential duct A/C systems. As the air flows past the iWave-R, positive and negative ions actively purify the supply air, killing mold, bacteria and viruses in the coil and living space. The ionization process also reduces allergens, smoke and static electricity, as well as controlling odors (cooking, pet, VOCs) and other particles (no more sunbeams) in the air without creating ozone or any harmful byproducts.
iWave-R treats the air in any brand of residential duct air conditioning systems up to 6 tons (2400 CFM) in size with no maintenance and no replacement parts. Designed for universal mounting, the iWave-R typically installs inside or outside of duct, or it attaches magnetically near the indoor fan in the air handler. iWave-R always works at peak performance, producing over 160 million ions/cc, more than any other ionizer product on the market. Its patent-pending self-cleaning design includes a programmable cleaning cycle that can clean the emitter brushes every 1, 3, 5 or 10 days. The iWave-R is factory set to clean every third day, which is adequate for a typical installation. iWave-R does not create "black walls" as negative-only ionizer products will do.
Patent-pending self-cleaning design ensures ongoing peak performance
Needle point ionization actively treats air in the living space
For duct systems up to 6 tons (2400 CFM)
Universal voltage input - 24VAC to 240VAC!
Universal mounting with magnets
Flexible design with no replacement parts
Kills mold, bacteria and viruses
Reduces allergens, odors, smoke, static electricity and other airborne particles
Keeps coil cleaner
Programmable cleaning cycle
Alarm contact option for secondary notification
UL and cUL approved
Three-year warranty*
*Nu-Calgon offers a three-year limited warranty on iWave products. For a valid warranty claim within three years, proof of purchase and proof of installation by a licensed HVAC or electrical contractor must be provided. See full warranty for complete details.