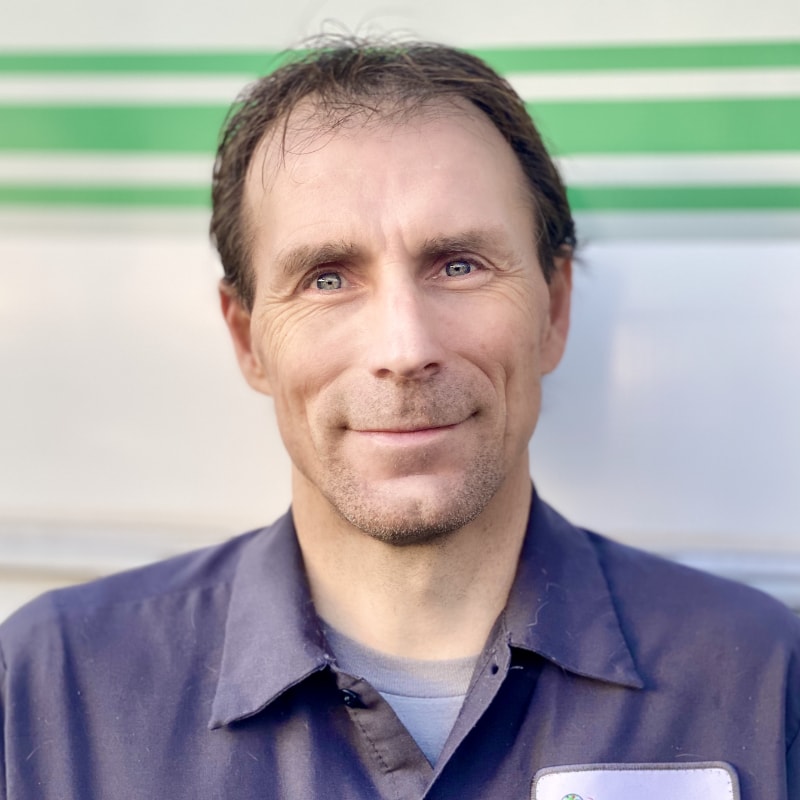 Duane
Service Technician
13 Reviews
Air Duct Repair in Bend, OR 97701
"I don't often do reviews, but I had to for this great company! Duane was great! He was professional and personable. We had contacted a different company in town first and they kind of blew us off and was going to charge us double! So thank you Diversified!!! You guys really know the meaning of "Customer Service". The ladies in the office are pretty great too! Thank you so much."
- Judy D.
Gas Furnace Repair in Sunriver, OR 97707
"On a somewhat urgent issue, Diversified was able to get a tech out the next day for our non-functioning thermostat. Duane was our tech, and he was FABULOUS! He was very pleasant, appropriately conversive, and explained everything thoroughly, including how to manage the thermostat on our i-Phones. He instilled TOTAL confidence!! Diversified and all of their staff with whom we've had contact are GREAT!! Don't let them go, Diversified!!"
- Debbie V.
Gas Furnace Maintenance in La Pine, OR 97739
"Duane serviced the ac, gas furnace, and repaired and service our gas fireplace. Duane is a true professional,it is so very comforting to know that there are still quality, experienced, and talented trade professional out there. Duane is one of the best I have had the pleasure of watching during his visit here.
Diversified….don't ever let Duane go ..that means some other outfit will get a really,really fine HVAC engineer!
Good job Duane and Diversified….K."
- K. G.
Gas Furnace Repair in Powell Butte, OR 97753
"Our Gas Furnace stopped working on a very cold Saturday. Duane made it to our place in the afternoon and quickly diagnosed the problem and repaired our motor without needed to replace any parts. He was very friendly and professional! Highly recommend Duane and Diversified for their prompt service."
- Cindy H.
Gas Furnace Maintenance in Bend, OR 97702
"Great communication from the office for scheduling and from Duane during the appointment. Always friendly staff and very knowledgeable."
- JC T.
Ductless Mini-Split Repair in Bend, OR 97702
"Diversified took care of getting Duane to my house in a timely fashion. Duane was professional,thorough &solved my issue very quickly. Thank you Duane and Diversified!"
- Denise T.
Ductless Mini-Split Repair in Bend, OR 97701
"Duane replaced a pump in our ductless unit. He was prompt, courteous and explained what he was doing and why throughout the entire process. He cleaned up after he was done and left things better than they were when he got here!"
- Sue G.
Ductless Mini-Split Repair in Bend, OR 97701
"Duane was very courteous and kept us informed throughout the entire service process of the pump replacement. He cleaned up when he was done and left things better than he found them. I was very impressed!"
- Sue G.
Air Conditioner Repair in Bend, OR 97702
"This is the second time I've had Duane come out. He's great to work with, does what he can to get you up and running even when parts aren't immediately available (last time) and efficiently gets you up and running when parts are available. That was part of my decision to go back with Diversified again. I lucked out this time in that the parts he didn't have on hand were at the warehouse. He picked them up and got my AC up and running again quickly to deal with the 90+ heat."
- Michael G.
Whole-House Humidifier Installation in Redmond, OR 97756
"Duane came out and installed a whole house humidifier us for. He explained how the system would work with our furnace during the winter to increase the moisture in the air and reduce the static. He came back out a few months later to replace the cold air return damper motor in our attic. He was great~ very friendly, professional, courteous, and knowledgeable about the entire HVAC system. We've been using Diversified Heating & Cooling for years as they consistently provide great service and have a great staff."
- Kim Y.