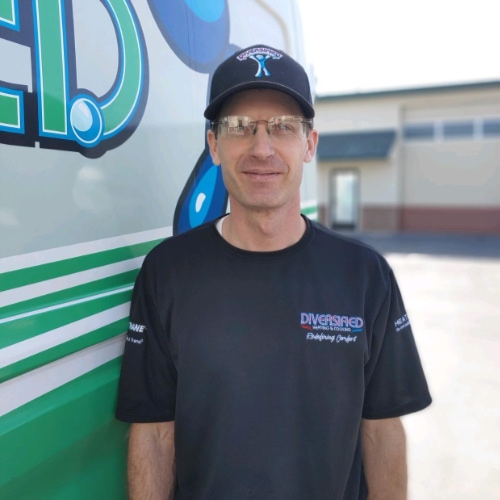 David
Service Technician
15 Reviews
Gas Fireplace Repair in Redmond, OR 97756
"Leaking gas at fireplace was quickly diagnosed and fixed. Happened to have with him a fireplace fan which we wanted since our fireplace and remote was already set up for a fan (so smart to stock the fan in the truck). Took a quick look at some other hvac stuff and suggested what we might want and more importantly what we probably don't want.
Casual efficient demeanor for a such a highly, technically, skilled, person. Give this guy a raise as my uncle is in the business and always seeking good technicians but my uncle is kind of a jerk so I won't pass his name around… :)"
- Jim A.
Ductless Mini-Split Maintenance in Bend, OR 97702
"David was on time and courteous. He was very knowledgeable about our mini-split heat pump system, ceiling cassettes and HRV system.
We are happy with Diversified and we will set up a regular maintenance schedule."
- Michael S.
Gas Fireplace Installation in Bend, OR 97703
"David has been to our home several times to either install or repair. He is fast, efficient and has an eye for detail. He communicates well with the customer, even the hard of hearing like me.
I have several more jobs for a heat and air specialist, and David is our go to guy."
- Jerry W.
Whole-House Dehumidifier Repair in La Pine, OR 97739
"I already had a very positive experience with Diversified's maintenance crew, and my experience with David, who was repairing a problem with our HVAC fan system, was equally positive. David was very thorough in making sure what the problem was and explaining the various options I had to fix it. He was easy to understand and very professional in all aspects of the service call. We appreciate knowing that Diversified has people who will do an excellent job of taking care of our HVAC system."
- Gary M.
Air Conditioner Maintenance in La Pine, OR 97756
"We in central Oregon know that the weather can literally change in 5 minutes and back again. During the first excessive heat warming our heat pump quit cooling. David came out, went from outside, inside and. In the attic to check for issues. He got the unit charged back up, but did advise we might have a leak. He came back today found the leak and we have cool air again!!
David is personal, listens and gets the job done!!
Side note the office got us schedule so quick.
Thanks all!!"
- Holly Jo W.
Heat Pump Maintenance in Bend, OR 97701
"David did a great job. Answered all my questions."
- Bill M.
Heat Pump Repair in Bend, OR 97701
"We have a high-end Trane HVAC whole house system that was installed and serviced by another HVAC company in Bend. Recently, on a chilly day, our heating system stopped operating. We immediately called our HVAC company for service, but only got their answering service who could not help us. Finally, we reached a grumpy customer service rep that was indifferent to our problem and told us that we might have to wait 2.5 weeks to get service. I immediately called Diversified Heating and Cooling (they service a rental house that we own) and reached Lisa K, the dispatcher. Lisa was very pleasant, helpful and knowledgeable – she had me run through some quick checks and then scheduled a service call for the next day. On schedule, David showed up the next day and found the problem – a mouse had eaten through the wire that goes to the heat pump's ambient temperature sensor. David was great. – professional, skilled, friendly and respectful of our property. The heating system is now running, the part is on order and we could not be happier. THANK YOU LISA K AND DAVID – EXCELLENT CUSTOMER SERVICE and TECHNICAL SUPPORT!! We will never use another HVAC service company again."
- Don L.
Gas Furnace Repair in Bend, OR 97701
"After an evening with no heat, David restored our service and was very efficient and effective
Thank you fir the warmth!"
- Kathie S.
Gas Fireplace Repair in Bend, OR 97702
"David was friendly, knew just what needed doing, and got the job done in a timely manner. He helped with suggestions regarding our fireplace and answered any questions or concerns we had. I will hope that as we have maintenance needs in the future, we will be able to request having David take care of them. Couldn't ask for a better person to do the job."
- Robert D.
Gas Furnace Repair in Redmond, OR 97756
- Jim V.