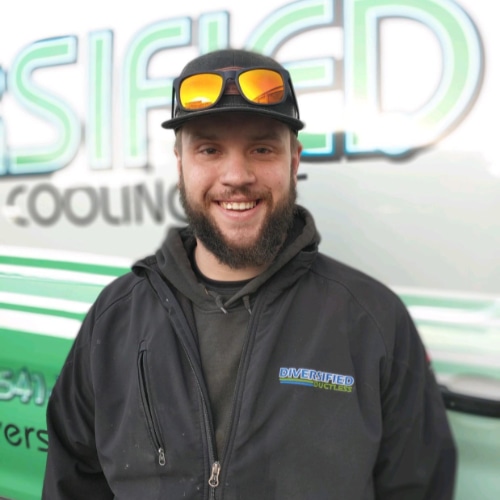 Keegan
Installer
26 Reviews
Ductless Mini-Split Installation in Madras, OR 97741
"Very Knowledgeable, courteous, friendly, neat, gave review of instructions very well, excellent work, very clean, we enjoyed having them install the unit."
- Jim L.
Heat Pump Replacement in Redmond, OR 97756
"Our heat pump died so we needed to replace at well as the air handler. Keegan and Matt (and Ian) were our installers and did an excellent job despite some pretty harsh outdoor conditions (snow/freezing temps). They arrived on-time and worked all day to get our system up and running. Everyone was very professional and congenial. Keegan and Matt had to deal/diagnose with a low voltage wiring issue that stalled getting the system up and running but worked diligently until the issue was diagnosed and resolved. Many thanks to these guys for a job well done. I would highly recommend Diversified!"
- Scott D.
Gas Furnace Replacement in La Pine, OR 97739
"these two did an awesome job would recommend them on any heating job they knew there job and worked together great like each one knew what the next move was going to be"
- David O.
Air Conditioner Replacement in Bend, OR 97703
"Matt & Keegan were awesome. On time, friendly, liked our dog, answered all of my questions, and gave me a thorough run-through on our new equipment. They were the "dynamic duo of HVAC installers. Could not have been happier with our installation. If the boss is reading this, give them a raise!"
- Pat C.
Ductless Mini-Split Installation in Bend, OR 97701
"Very nice crew, professional, timely and friendly"
- Scott D.
Heat Pump Installation in Terrebonne, OR 97760
"I was fortunate to have Keegan and Matt as installers. My house is a log home so the work must have been harder than normal but they, being the professionals they are, installed it very efficiently and in a shorter time than predicted. They were so very polite and friendly. If I ever have to have any other such work done, I would definitely ask for them. Thank you, guys, for the fast and perfect job you did.
Pauline S"
- Pauline S.
Ductless Mini-Split Installation in Crooked River Ranch, OR 97760
"Very satisfied with the whole crew, very tidy, Keegan,Matt very helpful on direction on units
Shoutout to Jess for selling the units to me , showing up on installation day and being helpful in the process
They work awesome ,I finally have AC !
Great job DIVERSIFIED HEATING AND COOLING !"
- Jeff S.
Ductless Mini-Split Installation in Bend, OR 97701
"Matt and Keegan showed up on time, I had my normal routine with young kids at the house that day. Both Matt and Keegan were super cool and understanding with all that was going on in the house. They were quick, 2 hours about for start to finish as they had said. I had some errands to run and felt completely comfortable leaving them at the house. Matt went over everything in detail of the system and answered all of my questions. From the initial inspection Don did, to completion, nothing but good people."
- David H.
Air Conditioner Installation in Bend, OR 97702
"Keegan was very professional, and explained everything very well. He and his team did a wonderful job. I highly recommend him to others."
- Chris F.
Air Conditioner Installation in Bend, OR 97703
"First of all, Jess was great. She came to inspect our current system and duct work. Then multiple options were presented with a solid explanation of the costs and benefits of each. We chose getting a slim A/C unit that has the additional benefit of being quiet. Added to our current gas heating system, the A/C unit fits right in—as does the air cleaner we chose specifically for smoke reduction. On installation day, Matt and Keegan went about their job efficiently and quietly. When I asked Matt about getting the unit and pad as close to the garage as possible, he was very helpful. Overall, I couldn't ask for a better process. Then there is the added bonus of the 0% loan for 6 years. Thus, we had no big out of pocket expense. Highly recommend!"
- Chris O.